Once you have set up a 'Team or Group Project', before you can add clients, you will need to 'Activate' the Project in the 'Project Settings' tab by completing all fields marked with the red * asterisk symbol.
Project Details
The Project Name could be simply the name of the company or the team you are working with, within that company. For example:

Company Field:
'Company ABC' (for i4 Report Cover)

Project Name Field:
'Executive Retreat for Company ABC' (for your Internal Reference)

The Company Name is what will appear on the cover of the i4 Report, the Project Name is for your own internal identification purposes of all the projects in your Dashboard. Your participants will not see the Project Name anywhere.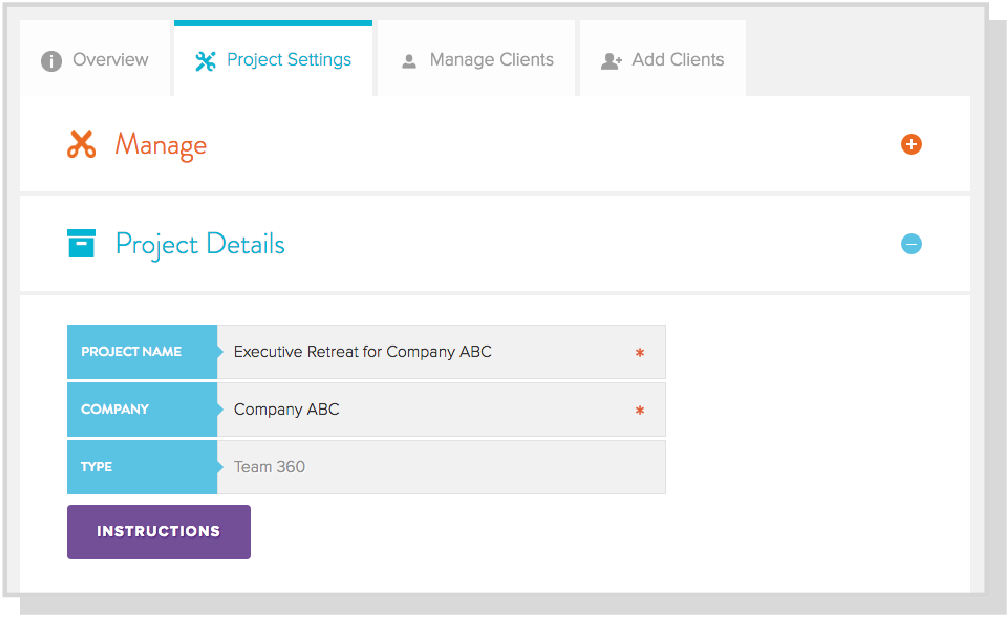 Contact Details
Here you have the option to add an administrator from your side or from the organisation you are working with (as an additional contact) for example a PA or a HR Co-ordinator who may be assisting in this project.

If you would like to add another contact, simply select the second box in order to provide our support team with another contact person. Otherwise, select 'I am completely in charge of this intervention' if this is the case.

System Requirements & IT Contact Details
It is highly recommended that all 3 fields are filled in, however the first two boxes are the only ones required before you move on:


The first box asks if you 'Have you done the recommended preliminary round of testing?'. Before launching a big project, we recommend that you undertake a small test and send the invitations through the system to 1 or 2 participants to check if they receive the invitation. Read this documentation for email deliverability details.

If you need any assistance with testing, please contact support@aboutmybrain.com. We'd be happy to help between business hours, which are Monday to Friday from 9:00am - 5:00pm (Sydney time).

The second box asks 'Has your client and their IT Department been made aware of the system requirements?'. The link provided in this field lists the system requirements for using our website. It's always helpful to share this link with your clients and their IT Department.

Lastly, check this last box if you have the contact details of your client's IT or Technical Support person for this project. It is very useful to have this information documented, not only for you, but for the AMBi support team, in case we need to contact the IT department if any issues arise.
Project Structure
The 'Project Structure' is where you set your 'Group Categories' in order to create a Team Report. To read more about how to do this, click here.
Inviting Participants to Access the Assessment
Once you have activated your Project, you will be able to access the 'Add Clients' Tab. To read about how to add Assessment Credits to your project click here.