This Tab allows you to manage your Participants and check their status within the Assessment process. By learning how to navigate this table, you can monitor the progress of your Project.
The Participants are listed in table format with 4 action buttons above:
The blue 'Bulk Action' button allows you to manage participants and apply actions
The blue 'Filter' button allows you to select a specific search criteria
The blue 'Column' button allows you to add or hide column information on the table
The fuchsia 'Add More' button takes you to the 'Add Clients' Tab
The green 'Options' dropdown button allows you to apply actions to each participant
The purple 'View' button takes you to an individual view of the participant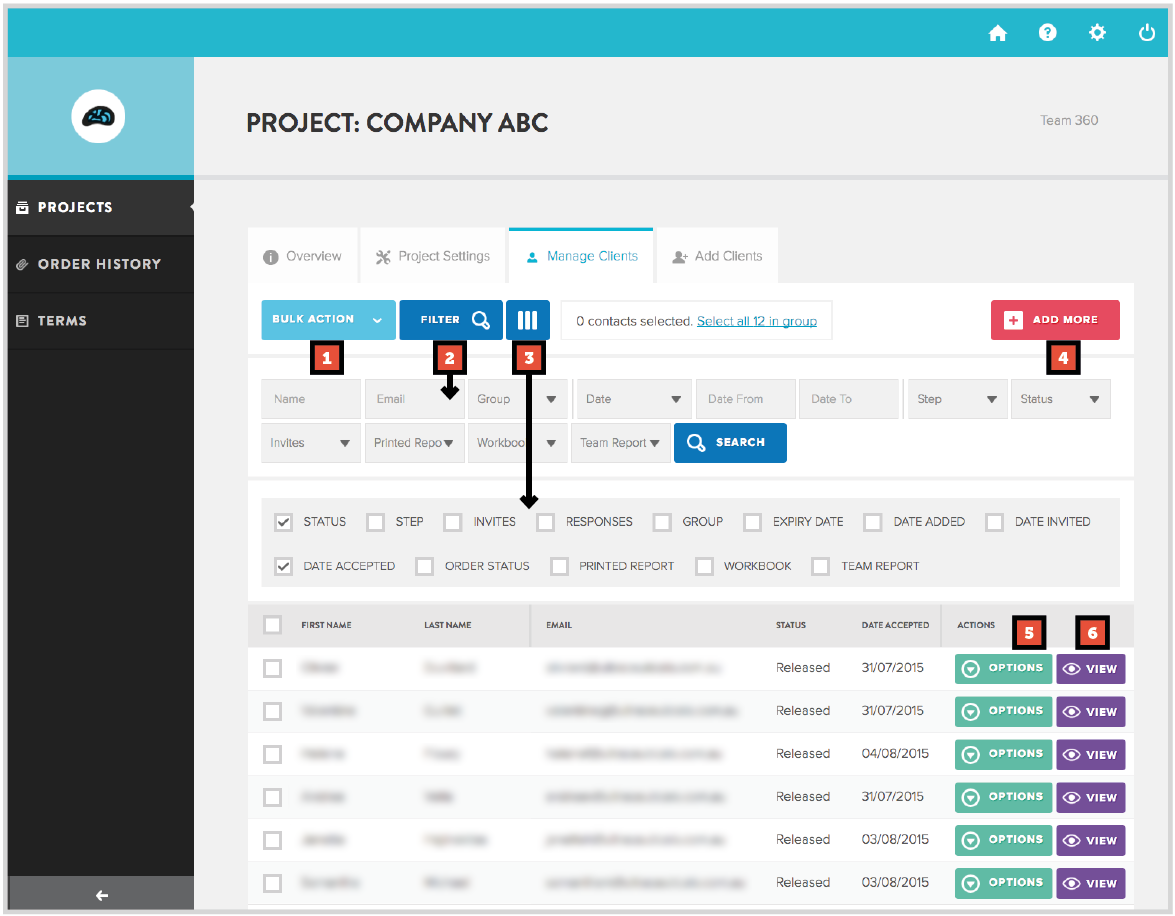 Two ways you can view a Participant
1. In the Table
The first is via the table as displayed above. You can view various details of the assessment process by the blue 'Column' button or by using the blue 'Filter' button.

Column Button: The blue 'Column' button is there to populate all the available table information. It allows you to 'show' and 'hide' information at anytime, by using the checkboxes at the top that you wish to populate in the table. You will be able to scroll right in order to see the details for each participant if all the checkboxes are ticked.

Filter Button: The blue 'Filter' button allows you to look for specific Participants within that Project. For example, you may wish to search for a Participant by Name, see how many Raters they have Invited or if they have completed the Self Assessment. To apply any of these filters, select the relevant fields and then click on the blue 'Search' button.
2. In an Individual View
The second way to view a participant is by clicking on the purple 'View' button next to each individual. This allows you to see the details in a full screen view. In this view, you can also manage Participants by using the 'Select an Action' dropdown menu under the 'Manage' accordion. To go back to the Table view, simply click the blue 'Back to Project' button. You will also be able to see the progress of your Participant's raters, click here to read more.