This article explains how to use the 'Add Clients' Tab in Group or Team Projects. This Tab is where you purchase assessments.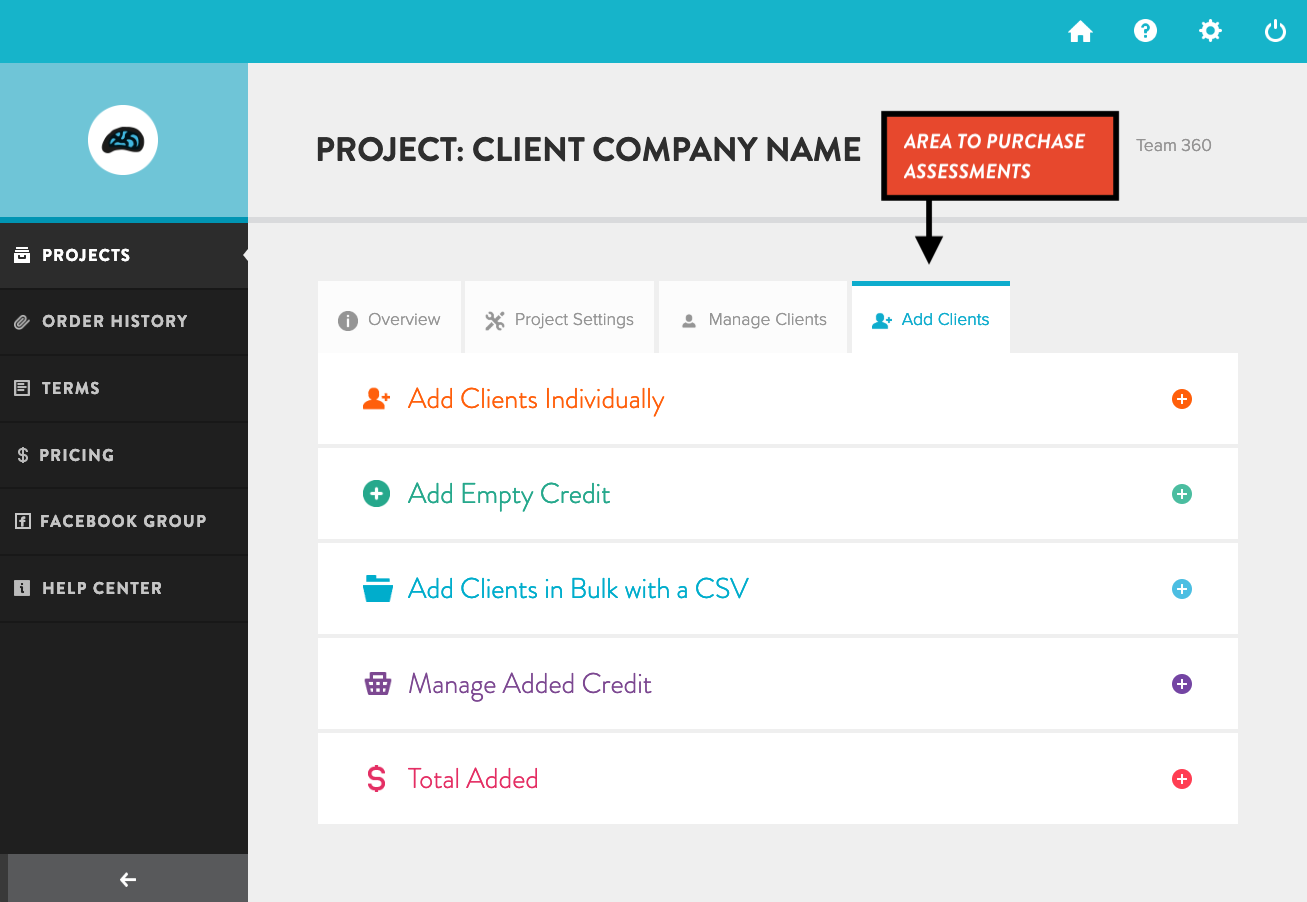 Once you have set up your 'Team or Group Project', you will be able to 'Add Clients' in 3 different ways using the 'Add Clients' tab:
Adding Clients Individually
Adding Empty Credits
Adding Clients in Bulk with a CSV file
Think of the 'Add Clients' tab as a shopping cart where you can add 'Assessment Credits' for each Participant you want to invite to complete an Assessment. 1 Credit is 1 Participant.
The 5 accordions in the 'Add Clients' Tab:
1. Adding Clients Individually
Clicking on this accordion will allow you to enter each Participant's First Name, Last Name and Email Address individually.
2. Add Empty Credit
By selecting 'Add Empty Credit', you can pre-purchase units of Credit for future use. You have the option to purchase as many units as you wish, however the maximum you can add at once is in blocks of 10 units. If you require more than 10, simply continue to 'Add Empty Credit' in blocks of 10. You can assign this Credit to a participant either before or after purchase.
3. Add Clients in Bulk with a CSV file
If you have a large team, their details can be uploaded via a spreadsheet in CSV format (which can be exported from Excel, Numbers or Google Docs). Once you have a CSV file, simply click 'browse' and upload the file to the Dashboard. We have also provided a CSV template for you to download and fill out in any of these spreadsheet programs.

Ensure there is nothing else in the spreadsheet, only three columns, one for the Participant's 'First Name', the second for the 'Last Name' and the third for the 'Email Address'. Please review that all the email addresses are correct and do not contain spaces between characters, otherwise when the CSV is uploaded you may get a syntax error.
4. Manage Added Credit
In this accordion, you can see a summary of the Credits you are about to purchase. These Credits are listed in table format, whether you 'Add Clients Individually', 'Add Empty Credits' or 'Add Clients in Bulk with a CSV'.

If you need to change, delete, rename or order a team report, workbook or printed report for each Participant, you can apply these actions by clicking on the green 'Options' button next to each Credit. If you need to apply an action to various Credits (Participants) at once, simply tick the checkboxes on the left hand side of the table, and then select the option from the blue 'Bulk Action' button.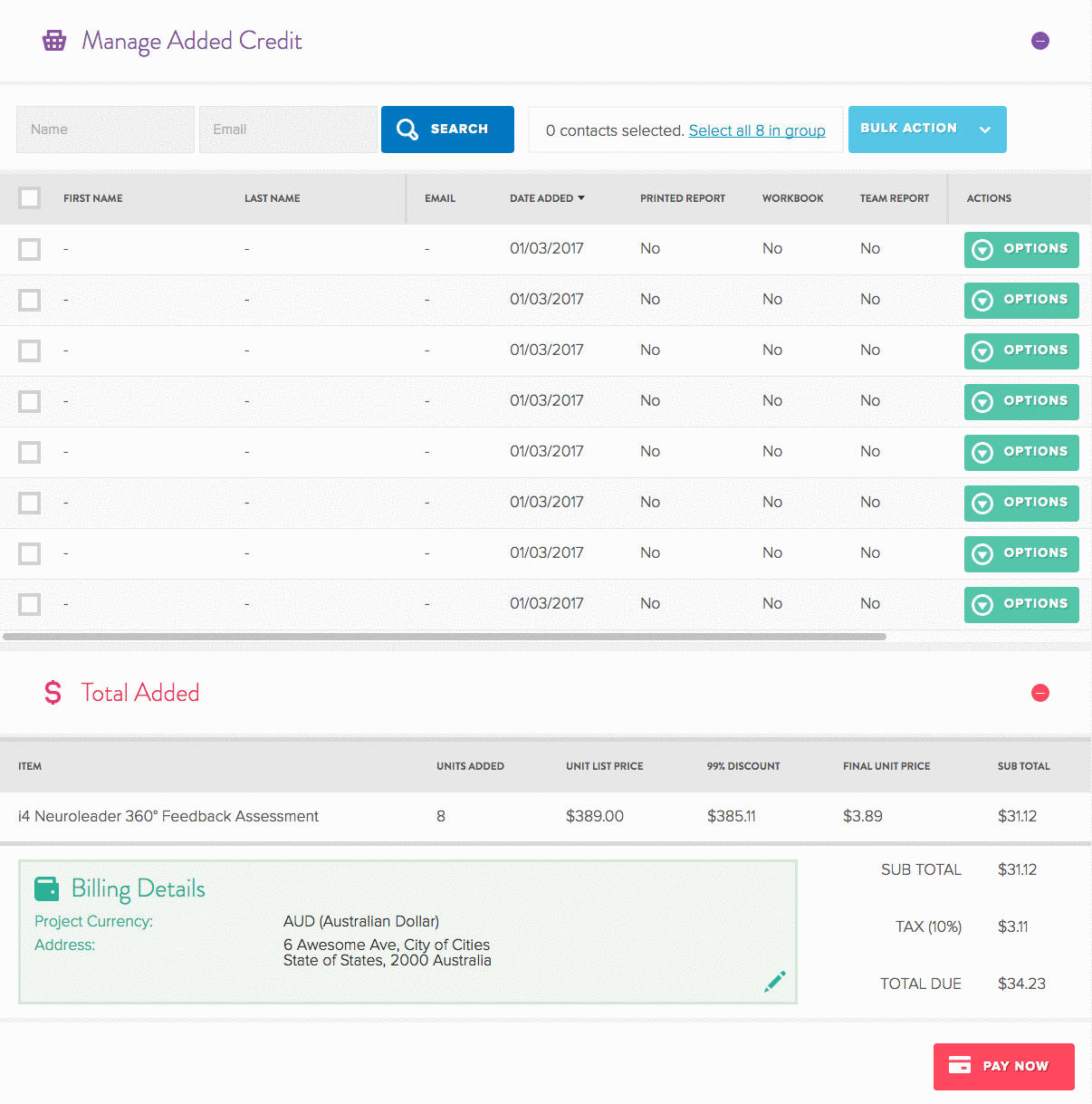 5. Total Added
Once you have 'Added a Client' or Credit a new accordion called 'Total Added' will appear under the 'Manage Added Credit' accordion. Here you can review the total of what you have added in the 'Manage Added Credit' cart.

You can also confirm your Billing Information and specify the Shipping Destination if you are ordering any physical products. Once you are ready to purchase what you have in the cart, simply click 'Pay Now' and you will be taken to a payment page. After completing the transaction, you will be directed back to the 'Manage Clients' tab.
Will the invitations be sent out to participants when I add Credit?
No. Whenever you 'Add Clients', email invitations will not be sent out to any Participants. This step is completed under the 'Manage Clients' tab. To read more about how to do this click here.