Your Raters will undertake the same assessment you would have completed in Step 4 of the Wizard. It is vital you read the points below so you can effectively influence your invitees to be part of this process.
The instructions below are also included as part of the Wizard Assessment process, however we have included them below with some additional information to guide you through process.
Instructions for Inviting
If you have received an invitation email to start your assessment, please do not forward this to your raters, instead, you will need to invite them through the Wizard after completing the Self Assessment Questionnaire. Once you get to step 5 and 6 of the Wizard, you will be able to send Rater Invitations.
To send invitations, first select a Rater type from the drop down menu and then click 'add'. You can choose various categories - or just one if you wish. However, you must reach the minimum requirement of 5 Raters in total, for the 'Send All' button to activate (it becomes orange).
Select the rater categories you want: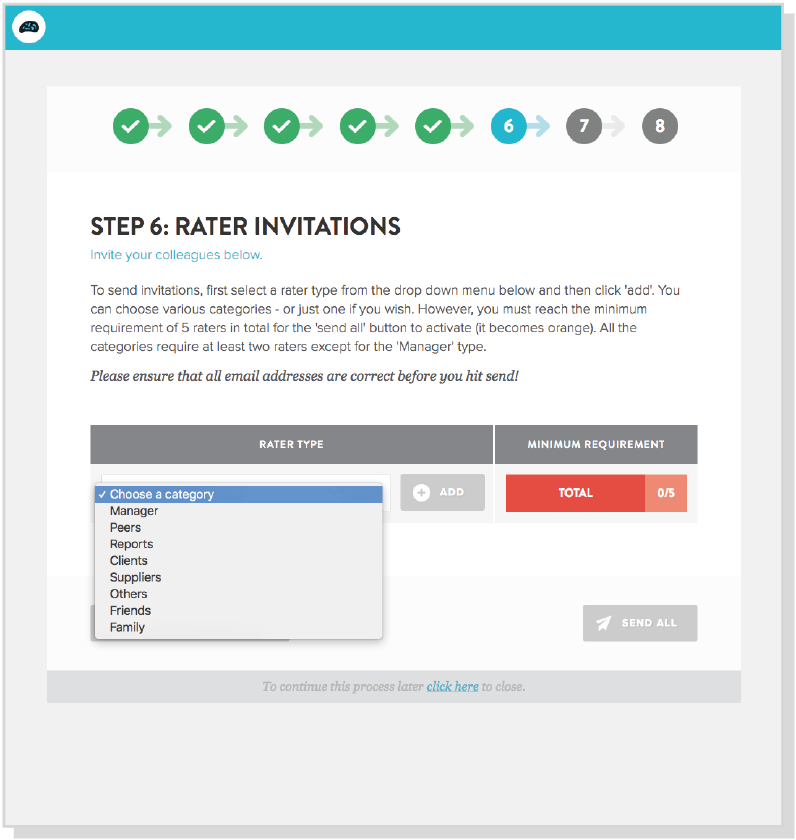 Reach the minimum of 5 raters, then hit 'send all':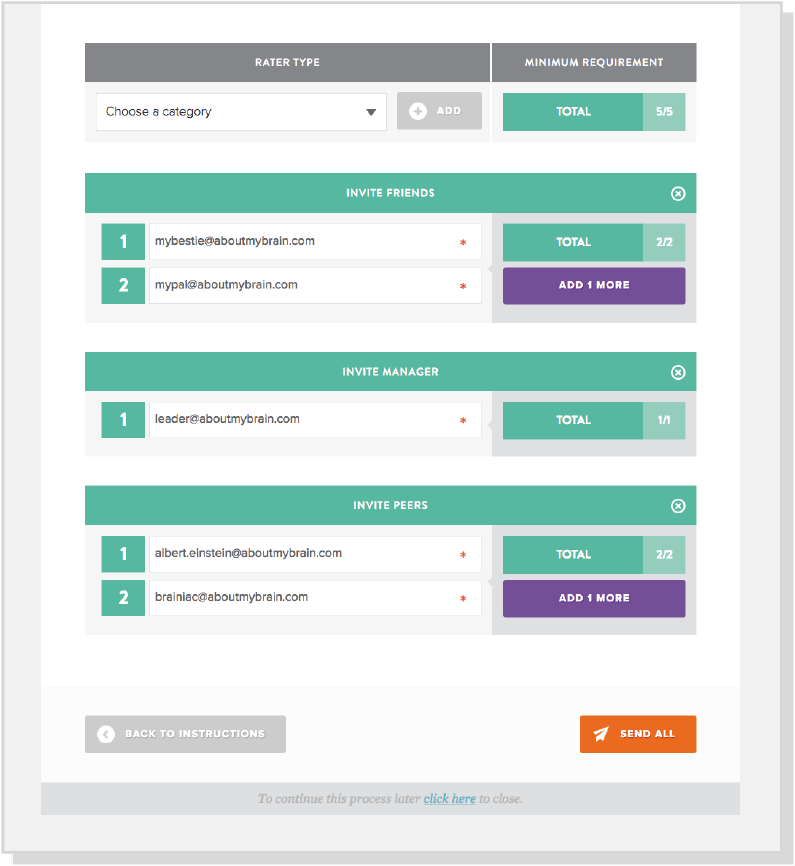 Which are the rater categories?
There are 8 Rater categories:
Manager
Peers
Direct Reports
Clients
Suppliers
Others
Friends
Family
Not all categories need to be completed. For example, you may only want to obtain feedback from your 'reports', 'peers' and 'manager'. However, when choosing any category you are required to nominate at least 2 people in each (except 'Manager').
If only 1 rater in their nominated category completes the assessment, their scores will not be shown in the 'breakdown of raters' graph in the report, however their scores will still be aggregated and shown in the 'others' circle. If this is the case, this final 'others' score will not necessarily amount to the addition of the percentages shown in the 'breakdown of raters'.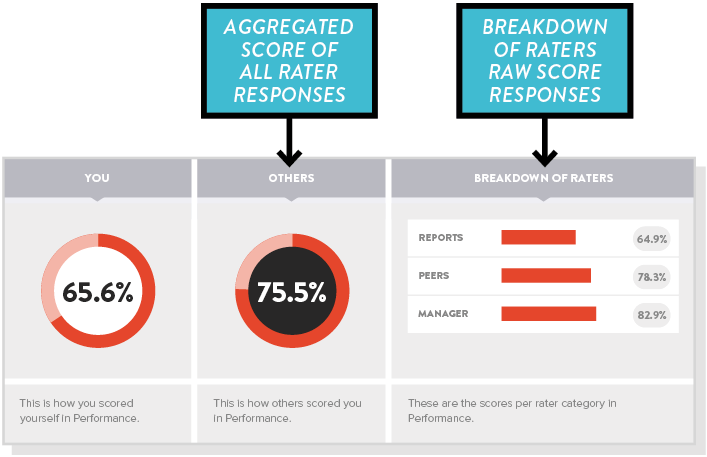 In order to receive a report that shows all your nominated categories, we recommend inviting more than 3 people per rater category, if you are unsure of what the response rate will be.
If you want to see the 'Rater' category in your i4 Neuroleader Report, ensure that you have received a minimum of 2 raters responses for that category before submitting your results for processing.
Is there a minimum of raters required?
Yes, you will need to send invitations to a minimum of 5 people for the Report to be processed. Once you have nominated your Raters, all the invitations can be sent at the same time.
How many Invitations can I send?
The system allows you to send up to 20 invitations. It all depends on how you would like to distribute the Raters throughout the different categories.
We recommend distributing you raters across as many categories as possible to take advantage of being able to compare feedback across different contexts.
This is a personal leadership and wellbeing Assessment that encompasses how you are at work and in life. It is important you invite people from all areas of your life, so that you get a holistic view. We recommend you use the 'family' and 'friends' rater categories.
What happens after my invitations are sent?
Once the invitations have been sent, your Raters will receive instructions on how to complete the assessment. Our system will also send them automatic reminders periodically over 15 days.
In addition, you will be able to track their progress in step 7 of the Wizard. To read more about managing rater invitations click here.
Invitation Etiquette
Letting people know about the reasons why you are undertaking this assessment will provide context and help them feel part of this process. We highly recommend you speak to your invitees before sending any invitations. A personal email or call is always useful before sending out the invitation emails via the system. It is also highly recommended to tell them that they will receive an email invitation from the About my Brain Institute, so that they expect the email.
It is always convenient to clarify that this is a personal development activity and that you value their honesty and support. Reassure them that their answers are anonymous.
Finally, be aware that sometimes people get caught up in their busy lives and forget to follow through. This is why we suggest you speak to your invitees first to gauge their interest before the email invitations are sent.
We also suggest that you send your raters this link:
https://support.aboutmybrain.com/instructions-for-raters
The above article explains the Assessment process and contains useful information for your raters to review. Most of these instructions are located in the email invitation and Wizard, however this FAQ will answer most of their questions.
If Raters need any assistance, they can email us at support@aboutmybrain.com.
What type of people should I invite?
The best people to choose are those who know you well and interact with you frequently. Reflect on the self-evaluation as you go along and select those who are likely to provide the most accurate observation of your traits, attitudes, abilities and behaviours.
It is better to select people that have worked with or known you for at least 6 months. In some organisations, managers like to approve the Raters you nominate. The About my Brain Institute does not suggest one method over the other and it is up to you, your manager and the Certified Consultant/Coach to discuss this selection.
Declined Invitations
A Rater may decline the invitation and you will be notified via email if this happens, so you can invite someone else, this will also free up slots if you have reached the limit of 20 raters.
What happens if my raters do not complete the assessment?
The i4 Report will only be processed after 5 Raters have completed the assessment. After the 15 day period, if the minimum requirement has not been met, you will receive a notification to invite more Raters in a second round. When inviting the second batch, Raters will only have 5 days to complete the assessment, this deadline will be shown in their invitation email.
If for whatever reason, you don't reach the minimum of 5 raters, you will be able to submit in the second round, however the 'breakdown of raters' graph, will not show in the report (see sample below). If no raters respond whatsoever, a Self Report will be generated instead of a 360 Report.