When you set up an assessment invitation, you will be asked to enter the details of your Participant. However, the Client might register with a different email or name, below is an explanation of what happens when this is the case.
'Invitation Details' shows the Participant's Name, Email and Date Invited which you entered when setting up the project and sending the email invitation.

'User's Registered Details' shows the details the Participant used upon them accepting the Invitation and creating a User Account. Here you can check the details entered by the Participant in these fields as email accounts could vary (for example a work email was provided to the Practitioner, but the Participant has chosen to create their User Account with a personal email).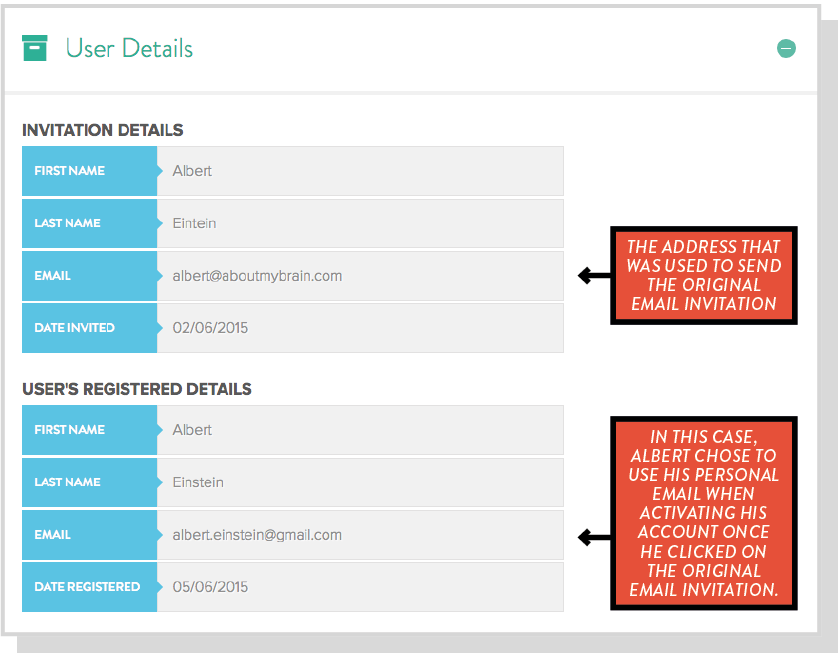 To access this view for Individual Projects, simply click on the 'Manage' button in the 'My Projects' page, and for Team or Group Projects - once you are inside the project - click on the purple 'View' button next to each participants in the 'Manage Clients' tab table.


Note, that if the details of your invitation are incorrect (such as name spelling), but the Participant still activates the assessment, you will have the ability to see the original invitation details as well as the details the Participant used to create an account.

After Participants register you will no longer be able to edit their name or email. If they wish to make any changes, they can change their name in the Settings Page. For email changes, they will need to contact us at: support@aboutmybrain.com.